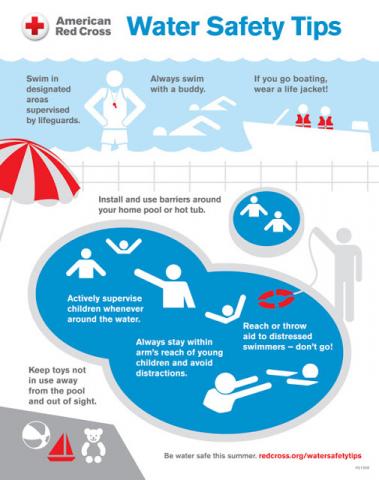 Playing in the water - whether swimming, boating or diving - is one of the most popular summer activities & can be so much fun, but it can also be dangerous, especially for children. Being safe can help prevent injuries and drowning. For our last summer safely topic let's discuss how to stay safe in the water. 
The American Red Cross has issued the following guidelines:
Make Water Safety Your Priority
Swim in designated areas supervised by lifeguards.
Always swim with a buddy; do not allow anyone to swim alone. 
Ensure that everyone in the family learns to swim well. Enroll in age-appropriate age-appropriate swim lessons.
Never leave a young child unattended near water & have young children or inexperienced swimmers wear U.S. Coast Guard-approved life jackets around water
Even if you do not plan on swimming, be cautious around natural bodies of water including ocean shoreline, rivers and lakes. Cold temperatures, currents and underwater hazards can make a fall into these bodies of water dangerous.
If you go boating, wear a life jacket!
Avoid alcohol use. Alcohol impairs judgment, balance and coordination; affects swimming and diving skills; and reduces the body's ability to stay warm.
Prevent Unsupervised Access to the Water
Install and use barriers around your home pool or hot tub. Safety covers and pool alarms should be added as additional layers of protection.
Ensure that pool barriers enclose the entire pool area, are at least 4-feet high with gates that are self-closing, self-latching and open outward, and away from the pool. The latch should be high enough to be out of a small child's reach.
If you have an above-ground or inflatable pool, remove access ladders and secure the safety cover whenever the pool is not in use.
Maintain Constant Supervision
Actively supervise kids whenever around the water—even if lifeguards are present.
Know What to Do in an Emergency. If a child is missing, check the water first. Seconds count in preventing death or disability.
Staying safe around water is more than staying near the lifeguard at the pool. Every year many children drown in residential swimming pools, bath tubs, buckets of water and other containers of water. Anywhere there is water there is risk for drowning. Do not leave a young child unattended near any source of water, not even for a moment. 
Thanks for discussing these summer safety topics with us for the past few weeks. Pull one up before your next BBQ, vacation or summer outing, to make sure your enjoying your summer safely.
See you in September!