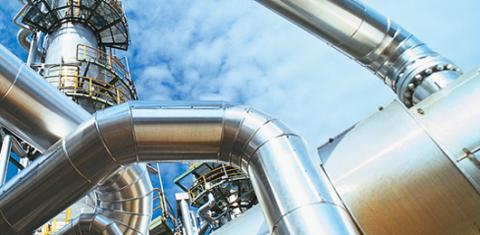 For the next few weeks we're going to look at some application examples from our Chemical E-Book, this week we'll focus on a method of cleaning up plant wastewater streams: Scrubbers. Wet scrubbers are effective air pollution control devices for removing particles and/or gases from industrial exhaust streams. Scrubber liquid normally has very low organics, but the outlet must be monitored due to ever changing concentrations.
A manufacturer of industrial inorganic chemicals, specifically high quality catalysts, was experiencing several fires on their process. A process which involves several process steps including impregnation, drying, calcination and filtering. The concentrations of gases/solvents in the the batch processes are always changing. The pollutants (particulates, solvents and/or gases) from the manufacturing process are collected in a vent line and sent to scrubbers where they are dissolved or absorbed.
As a result of these fires, the company decided to add monitoring equipment to the outlet of the scrubber. They wanted to put the upstream processes in safe mode if the LFL exceeded 20% LFL. They ended up choosing the PrevEx Flammability Analyzer for this application because it offers a number of advantages:
Extremely short response times allowing quick reaction to prevent fire or explosion
The unique ability to accurately measure most common process solvent vapors, including mixtures to within a few percent of the LFL without the need for recalibration
Fully heated to keep all the elements of the dryer atmosphere in the vapor state eliminating clogging and sample condensation
Rugged, industrial design
Low maintenance and easy servicing featuring a ìService Neededî message  and relay contact that anticipates the need for maintenance before faults occurs
To find out more read the full case history.